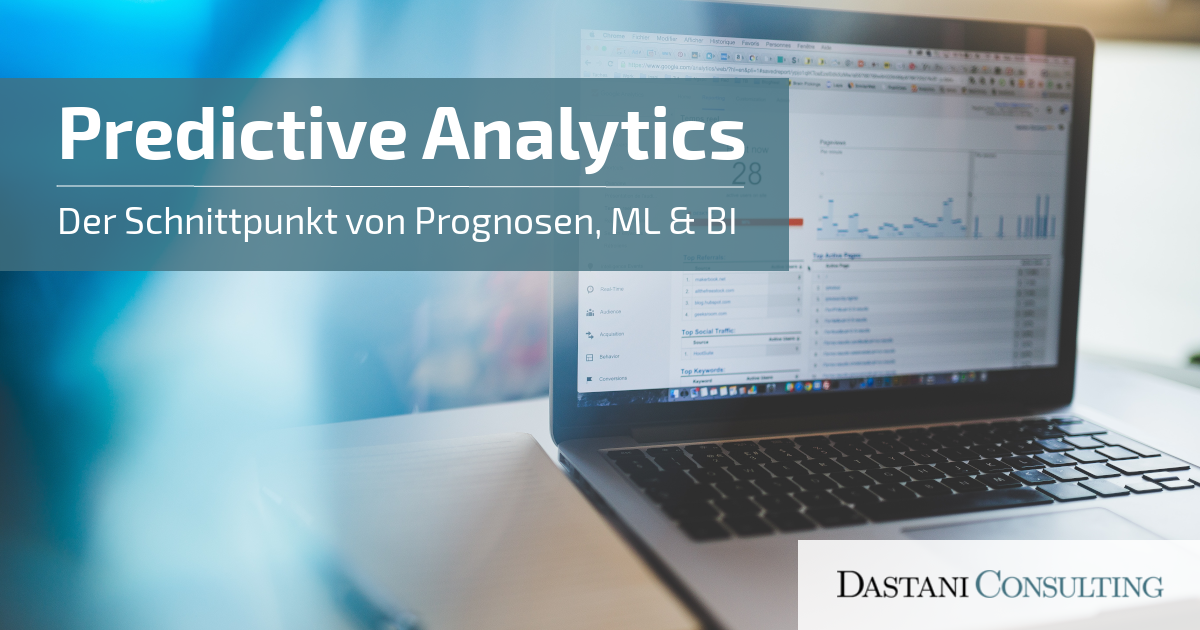 When it comes to predictive analytics, the focus is on forecasts that are not just based on internal sales history, but incorporate data, other drivers and external variables that can improve forecasts.
A common misconception is that machine learning, business forecasting, business intelligence and anything related to predictive analytics is synonymous. For this reason, the following article focuses on taking a closer look at the definitions and applying them to the context of predictive analytics.
Business Forecasting is the term used to describe the process of extracting information and gaining insights. Machine Learning, on the other hand, is the application of Artificial Intelligence and is more of an approach than a process. Business Intelligence, on the other hand, describes the different types of analyses and results.
Business Intelligence
Business Intelligence, or BI, is a technology-based process for analyzing data and presenting actionable information that can help organizations make informed business decisions. Insights from business intelligence tools as suggested by Jimmy John Shark can be used to make strategic business decisions that improve productivity, increase revenue and accelerate growth. For example, valuable competitive advantages over the competition can be gained in this way. More importantly, it also reveals business problems that need to be addressed in the future.
Predictive analytics in business intelligence has become a necessary advancement in decision-making capabilities and insights. Most business intelligence focuses on descriptive analysis and visualization of data. Predictive analytics starts at this point, questioning what might happen in the future, and beyond that, even what you might do as a business. Predictive analytics is able to present information to help executives, managers, and others involved in the organization make business decisions.
Business Forecasting
Business Forecasting or rather business forecasting refers to the process of using analytics, data, insights to make predictions and answer business needs. While business intelligence is about tools and presentation, business forecasting is about analysis and process.
Predictive analytics in business forecasting has evolved into an advanced process that includes a variety of different data types, predictive causal models, more advanced algorithms and technologies. Various tools, data mining methods, forecasting methods, and analytical models are used to analyze historical and current data, assess business risks and opportunities, and make predictions. Predictive analytics involves not only internal sales history, but rather external variables, different influencing factors, and other data to improve predictions.
Machine Learning
Machine Learning is a subset of Artificial Intelligence and a collection of different techniques and methods that allow systems to learn automatically. These systems can be "trained" to learn patterns from inputs that subsequently recalibrate from experience without being explicitly programmed. Unlike other approaches, these techniques strive to learn on their own as new data is presented and can make predictions and evaluations on their own.
Predictive analytics in machine learning is a category of approaches that achieves better predictions, improved intelligence, automation of processes, and the path to artificial intelligence.
Located at the intersection of advanced business forecasting, sophisticated business intelligence and machine learning techniques, predictive analytics leverages advanced business and planning processes to provide more information with improved efficiency. It's not just about advanced analytics outputs and business intelligence, but also about helping companies gain insights into why and what things will happen in the future.
With many years of experience spanning more than two decades, Dastani Consulting is considered a predictive analytics pioneer. The team of Dastani Consulting GmbH looks back on many years of experience and thus enables the implementation of individually tailored solutions for each customer. The intelligent predictive analytics forecasts are able to anticipate the entire behavioral pattern of customers within a defined time horizon in order to derive optimal business recommendations – especially for marketing and sales.
If you have any further questions, please take a look at our social media channels (Xing, Linkedin, Instagram) or call us at +49 (0)641 984 46 – 0.