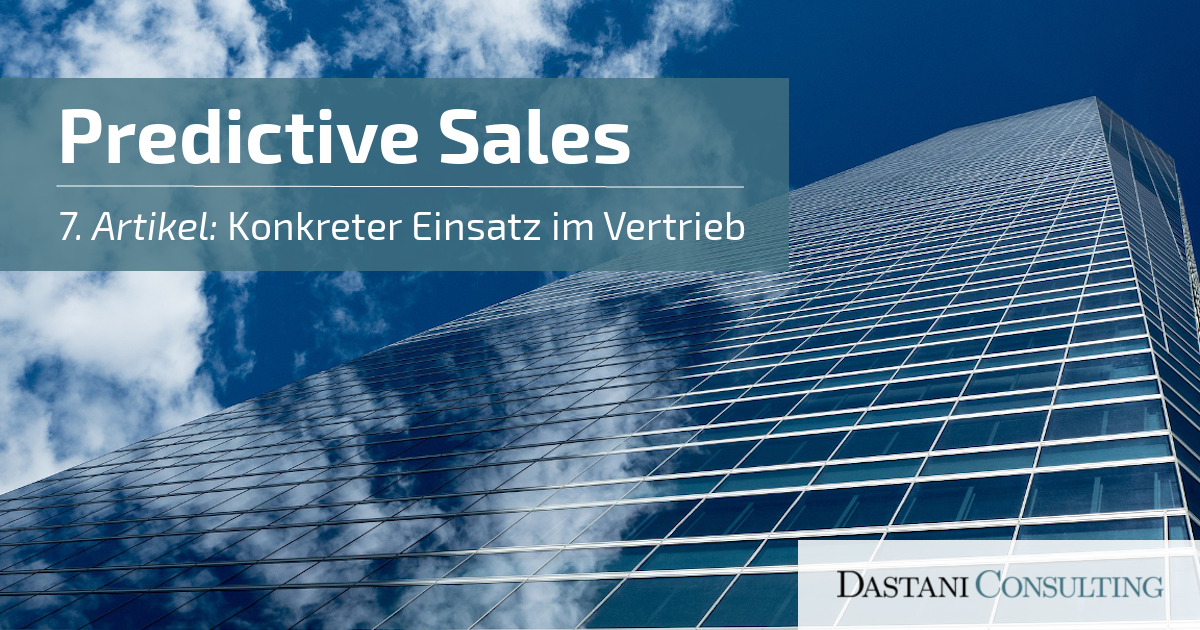 In the seventh part of the series of articles on Predictive Sales by PwC and Dastani Consulting, we show you how sales must proceed in concrete terms to keep the promise of AI.
In previous posts we have described the background and benefits of Predictive Sales. Now we answer the question how these possibilities can be implemented in sales. From past projects we have identified three success components for a sustainable increase in sales: The appropriate industry, a pilot test and continuous learning, as well as adaptation of sales processes.
The use of AI in sales is suitable for all companies with a large number of customers with regular demand for products and services. This means specifically in the B2B environment: automotive suppliers, construction materials and tools, chemicals, electronics, wholesale, mechanical engineering, medical technology, metals and raw materials, logistics, IT, telecommunications.
A pilot test is suitable as an introduction to the use of AI, to get to know the procedure and applicability. For example, the probability of success with target customers in the past year can be compared with the actual acquisition success. Or the cross-selling probability with customers of the past year can be compared with the success of an actual cross-selling campaign. Basically, AI learns something new and delivers more reliable results with increasing repetition.
The own data quality does not play as big a role as perhaps expected. Since the ERP system reliably stores data on customers and their transactions, all relevant data for an internal comparison (cross/up-sell, churn) can be drawn from it. For Purchase Probability and Share of Wallet, the corresponding websites must be entered, AI then determines comparable companies on its own.
To make the best possible use of the newly acquired knowledge, the sales management should refresh some classic procedures.
First, the segmentation of new and existing customers should be updated. Today's turnover, total potential and purchase probability are the most important dimensions here.
The contact strategy for each customer segment should then be defined: Who contacts which customer via which channels and how often with which messages?  The "who" can be filled in very differently: Key Account Managers (KAMs), field service, telesales or marketing automation solution.
The design of the customer segments affects the organization: Number of KAMs, field service, telesales. A reallocation can ensure that each customer is served in the best possible way depending on his potential.
A daily action plan can be created for each sales representative. This will be different for the home office during the corona pandemic than afterwards. It can be flexibly adapted depending on different visit restrictions.
The examples presented here show how AI can provide sales staff with precise planning tools for targeting, acquiring and developing customers. New customers can be acquired more efficiently and cross- and up-selling measures can be defined accurately. The overall potential of each customer can be identified. Customers willing to change can be prioritized, addressed and retained.
In these issues, AI works with a reliability that leads to a significant increase in sales and margin after only a short period of use. The methods can be applied even in corona times and are promising for every company with active customer approach. Many companies have taken a crash course in digitalization as a result of the pandemic. Companies that extend these findings to the use of AI secure themselves an excellent starting position in the "New Normal".
If you have any further questions, please visit our social media channels (Xing, Linkedin, Instagram) call us at +49 (0)641 984 46 – 0.