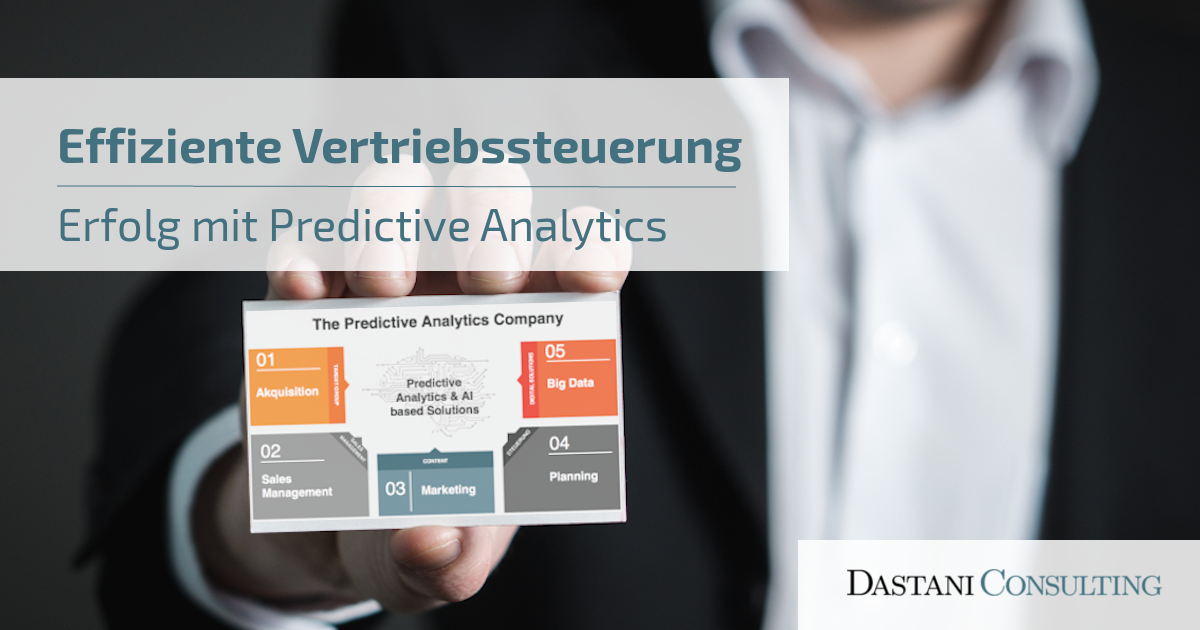 An ever-increasing challenge for sales will be the proper use of limited and expensive resources. Predictive analytics is becoming increasingly important as a planning and analysis tool and can support sales teams in the data-driven sales planning of B2B business.
In recent years, customer purchasing behavior has changed dramatically. In the age of digital information and procurement channels, as well as mobile and online channels, traditional sales channels are under great pressure. Customers hope to receive support across all touchpoints of a provider. For a provider, however, the focus is on increasing efficiency instead of relationship orientation.
Sales work is different
Sales tasks are changing: business with standardized products can be handled more effectively in digital form in the future. Via channels such as online portals, social networks, social media, news feeds, apps, etc., customers can be supported throughout their customer journey with positive experiences. For a product that does not require explanation, a customer "only" has to initiate an order process because all the other information required for the purchase is already available.
At the same time, this means for the sales department that the focus can be placed on potential major customers with products that require more explanation and more complex decision-making structures, because fewer customers need to be personally looked after by the sales force.
The use of the KI
AI applications can help calculate a customer's likely needs. Forecasts are developed for potential cross/up-selling sales or new products. The potential-oriented customer segmentation available in this way steers resources in the desired direction. The results are sales-promising visit and contact suggestions for the sales department.
Models raise forecasts to a completely new level
We at Dastani Consulting have developed models that raise forecasts to a whole new level and map trends in sales development. The models are based on statistical data and are able to anticipate the behavior pattern of individual customers within a pre-defined time window. The forecasts are extremely precise and can therefore provide optimal recommendations for action for the players involved in market development – sales, office staff, marketing and service.
Fields of application for forecast models
Whether sales forecasts for a product in different target groups or regions, models for dynamic pricing or predictive maintenance for machines and smart services – predictive analytics tools can support you in many areas of your company, especially in data-driven sales planning.
As we at Dastani Consulting have a wide range of predictive analytics applications at our disposal, we are able to implement individual solutions for our customers. With appropriate predictive analytics tools, sales can evaluate and plan concrete sales scenarios and probabilities for the future. With supporting algorithms, it is possible to make predictions about the value of customer relationships and thus better exploit sales potential.
Uncovering undiscovered potential
With Target Group Predict, you can uncover important acquisition potential and win the best new customers in the long term. A Customer Value Prediction can also determine the sales potential of each individual existing customer and thus reliably forecast the Customer Lifetime Value. The Share-of-Wallet forecast finds out for which inactive or weak existing customers a reactivation is worthwhile in order to realize important up- and cross-selling potentials.
Conclusion
The systems of Dastani Consulting discover facts, which are not to be excluded with an optimization of the business results. In addition, they make it possible to uncover previously undiscovered potential in B2B business.
If you have any further questions, please visit our social media channels (Xing, Linkedin, Instagram) call us at +49 (0)641 984 46 – 0.