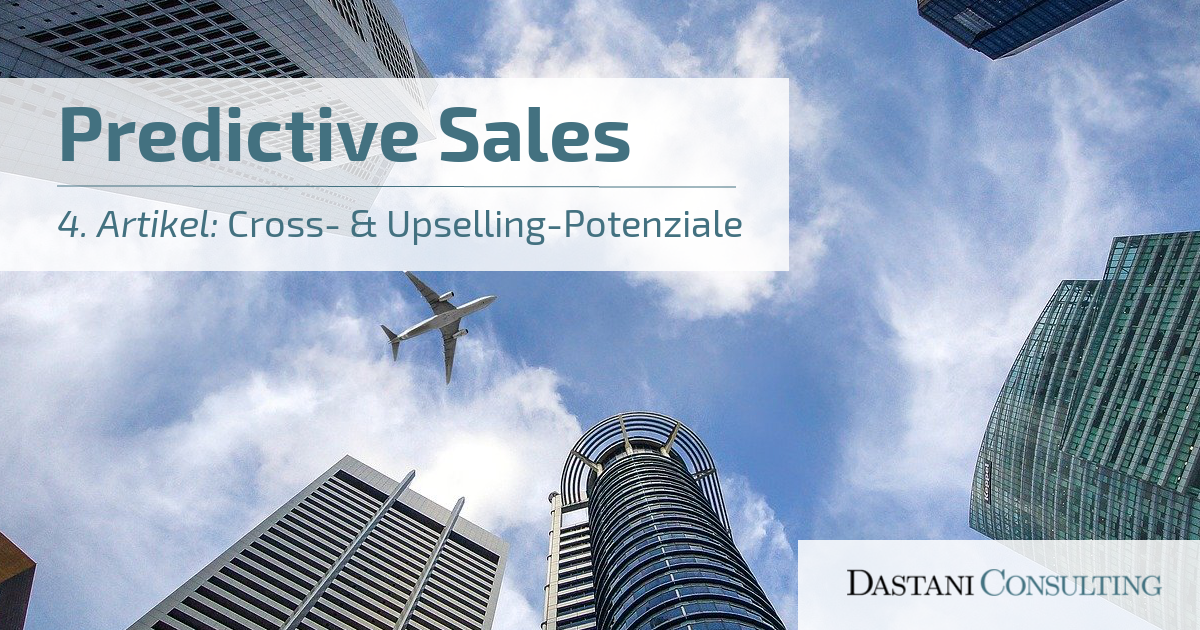 The fourth article in the series of articles by PwC and Dastani Consulting shows how AI can identify important cross- and up-selling potential. This new kind of transparency provides sales staff with information about products that they would not have considered for the client themselves.
Besides new customer acquisition, the development of existing customers is essential for any B2B sales force. Usually, a deep understanding of the customer (Customer Insight/Intimacy) decides which other products or services could be relevant. Here, too, AI provides support, and with significantly less human evaluation of existing customers than in previous cross- and up-selling. Companies only need to know what turnover each customer has made and what they have bought from them. AI is then able to forecast the turnover of each individual customer very accurately for a specific period of time. The method determines the customer value for each product group and, if necessary, even broken down to each individual product. We can therefore know which turnover is possible in which areas and which products interest the customer. A comparison with the business the company has done with the customer so far shows the cross-selling and up-selling potential. It often happens that this new kind of transparency gives the sales department an indication of products that they would not have considered for the customer themselves.
Due to the corona pandemic, the sales force is currently still restricted in its ability to visit customers. Suddenly the contact strategy is not characterized by geographical proximity. Sales staff or customer service representatives can approach all addresses equally. This is where AI makes a valuable contribution by deriving requirements from past orders. This information can be used across all channels – from telesales to video calls from the home office to ready-made order suggestions in the online shop. In addition, the system quickly learns how an unforeseen event such as Corona affects customer behavior. This has enabled large sales organizations to reallocate their sales resources very flexibly in recent months.
It is extremely informative to compare actual customer behaviour with the forecast values. If the realized sales remain far below the expected value, the question arises why the customer did not buy the predicted products. Valuable impulses can be derived from this. For example, it is quite possible that salespeople have achieved the agreed targets, but 20 or even 30 percent of customers should have performed better. If you dig deeper here, you will sometimes come across structural weaknesses: Products were not even offered in the first place, a sales area is not or not sufficiently staffed, or it was not possible to retain a customer – he has long since migrated to the competition. If companies can intervene early on thanks to sound analyses, this strengthens the sales organisation and promotes a sustainable increase in turnover.
This article is part of a series on LinkedIn about #PredictiveSales:
1. the potential lies in forecasting
2. technical requirements
3. forecast the purchase probability of potential customers
4. identify cross- and up-selling potentials
5. discover the turnover potential of the customers
6. not every goodbye hurts
7. concrete use in sales
If you have any further questions, please visit our social media channels (Xing, Linkedin, Instagram) call us at +49 (0)641 984 46 – 0.