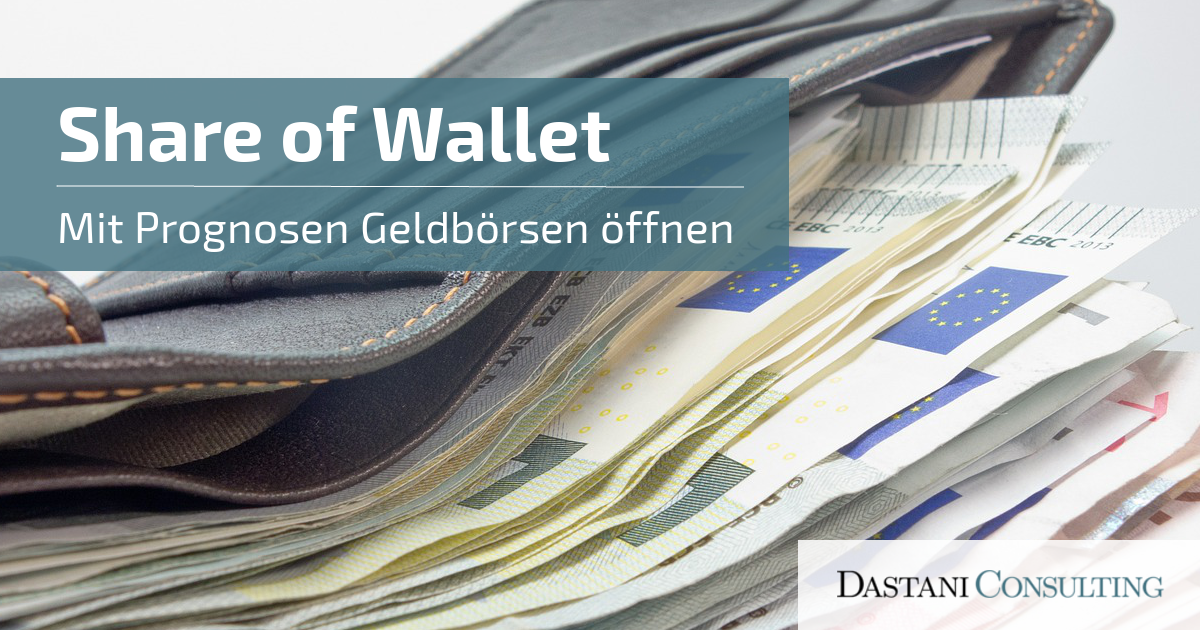 When it comes to increasing turnover with existing customers, the "Share of Wallet" is the obvious choice. This concept is about how much an individual customer wants to spend or can spend for a company in a certain product area. The decisive factor is therefore not the purchases made so far in the company itself, but rather the future potential.
The Share-of-Wallet forecasts make a considerable contribution to exploiting the sales potential of existing customers, because this is precisely a frequent problem in the control of marketing and sales, because the company does not know the actual total potential of the customers.
Share-of-Wallet Potentials
The Share of Wallet indicates the difference between the total potential of a customer in a certain product group and the actual turnover with this customer in the respective segment.
Objectives and methodology
The goal of a Share-of-Wallet forecast is therefore to find out whether inactive or low-volume customers have additional sales potential beyond the realised sales – and which of these customers are worth reactivating or expanding?
Methods based on artificial intelligence and external data – such as industry, employees or website content – are used to determine the actual sales potential of a potential customer.
The sales potential is calculated by using the sales of comparable customers with identical profiles. In this way, companies can be specifically identified which, based on their industry and number of employees, look as if they would, for example, achieve an annual turnover of 100,000 €, but do not do so. These customers must be addressed in a targeted manner.
Result
The predictive analytics software thus offers a solution where important customers from the B and C customer base with "A potential" are to be identified in the future and channel segmentation into A, B and C customers is to be carried out in a potential-oriented manner.
The result of these predictive analytics forecasts is the allocation of sales to untapped customers, also in individual product groups, with a targeted focus on customers with high future potential. The sales force can rely on this to generate promising potential.
In marketing, the Share of Wallet represents a situation that can be used to one's own advantage with the right communication and information. It can be assumed that the "missing" sales will be made with the competition.
Sales now has the task of finding out why another company – i.e. the competition – is preferred or why one's own company is not chosen for all products in this product area. The obvious key to success: Dialogue with the customer, because the potential customers of the competition tick like their own customers.
If you have any further questions, please visit our social media channels (Xing, Linkedin) or call us at +49 (0)641 984 46 – 0.