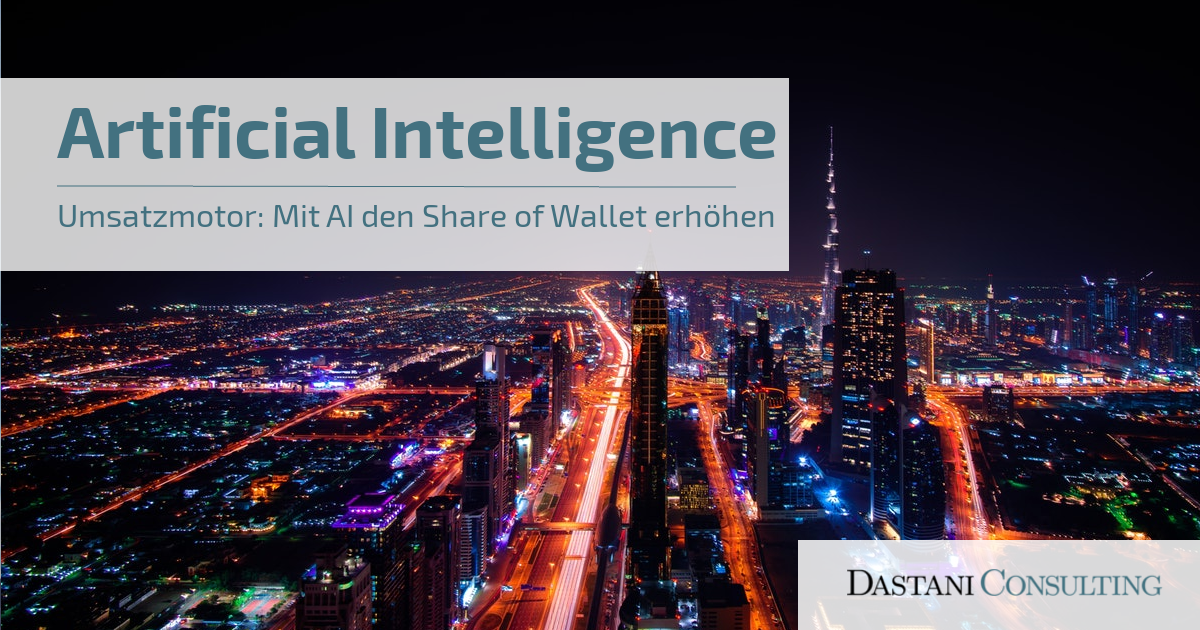 Turnover driver: How to raise Share of Wallet with AI (Artificial Intelligence)
Sales departments are flying blind if they don't know the turnover potential of individual customers in specific sectors. More important than the historic business volume generated by one's own company is the general sales potential, from which the Share of Wallet can be derived – and systematically raised.
Share of Wallet identifies the difference between a customer's total turnover in a specific product category and one's own turnover with the customer in this segment. This provides a very precise measure of sales performance.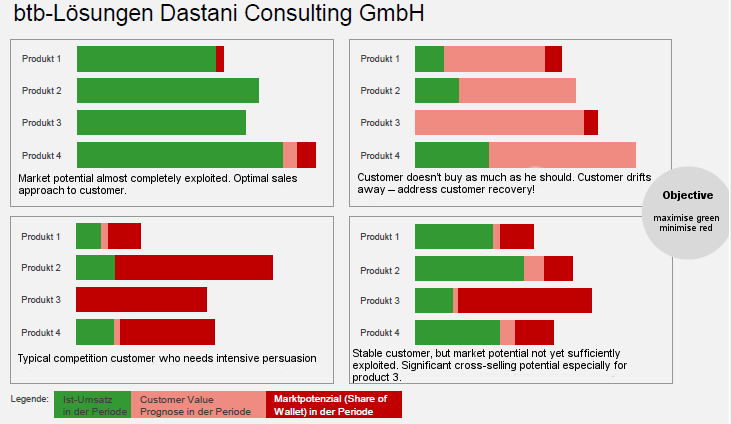 •The ideal situation: Mr. and Mrs. Jones are comfortably off and regularly purchase items from all product categories at their local delicatessen. In this case, the retailer is able to exploit his customers' purchasing potential almost to the full. The turnover achieved corresponds to Customer Value.
•The crisis scenario: In a change of routine, Mr. Jones only looks in every now and then in search of special offers. Alarm bells sound at the delicatessen: the actual turnover no longer reflects the Customer Value of Mr. and Mrs. Jones. They are threatening to drift away.
•The challenge: Mrs. Jones regularly buys pasties and sausages at the delicatessen. However, she gets her wines and spirits from a nearby winery and regularly places online orders for specialities. The Share of Wallet could be significantly increased, but this turnover potential is still in the hands of the competition…
•The almost perfect scenario: Mr. and Mrs. Jones are regular customers and frequently buy delicatessen products ranging from exotic fruits to shellfish and crustaceans as well as chocolates and liqueurs. But the enthusiastic hobby chefs hardly ever purchase anything from the kitchenware department. This promises a strong cross-selling potential.
Our delicatessen retailer knows his customers and intuitively judges the potential correctly. But in bigger stores, the Share of Wallet is determined using AI-based Predictive Analytics software. This involves relating the turnover expectation to the turnover potential, whereby the latter is determined via externally transferable information that has nothing to do with past transactions. Each individual consumer is allocated to a group that behaves in a similar way. For every individual customer relationship, this solution determines how the company can achieve the best result.