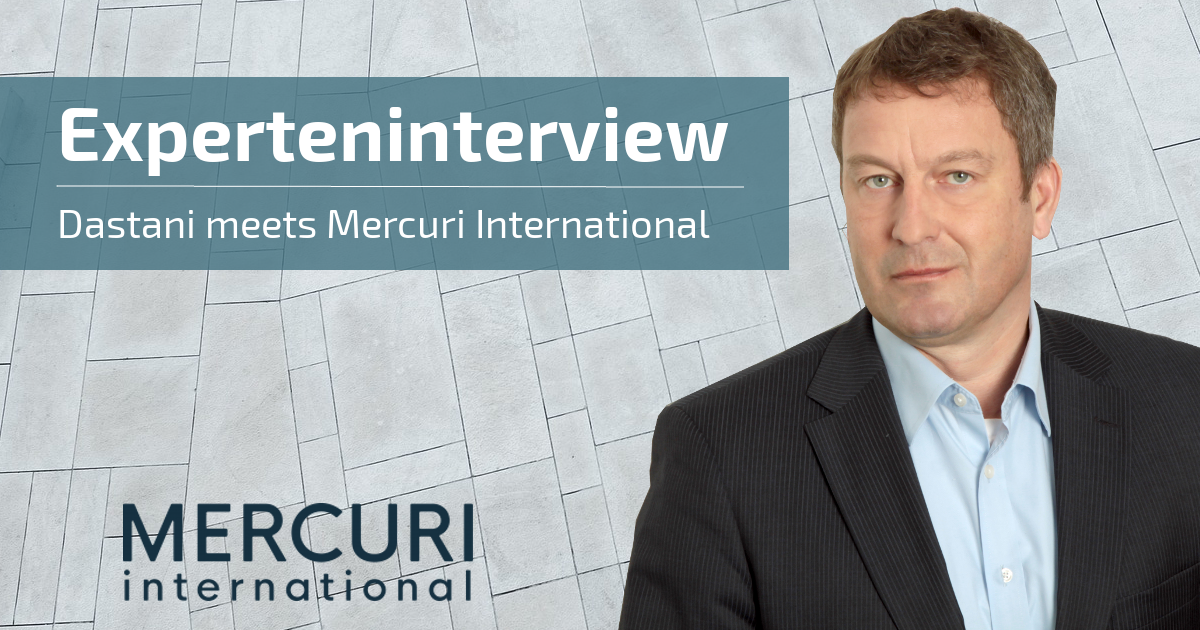 On 07.06.2019 our managing director Dr. Parsis Dastani met Dr. Matthias Huckemann, the managing director of Mercuri International Deutschland GmbH based in Meerbusch, in an expert interview. Managing Director Dr. Matthias Huckemann spoke about current trend developments and the use of artificial intelligence (AI) in sales.
Every year, Mercuri International supports companies in over 50 countries in achieving sales excellence. The analysis of sales situations, the joint development of efficient sales concepts with their customers and the optimisation of sales processes with subsequent training and coaching measures are part of Mercuri International's day-to-day business.
PD: Dear Dr. Huckemann, you are a sales expert and managing director of Mercuri International, a consulting firm specializing in sales and implementation. For many years, you have supported companies in setting up their sales more effectively, generating more sales and implementing strategies. Where do you see current trends in sales?
MH: The most important development in recent years has been the demand to deal with possible improvements in sales at any time and to implement the identified potentials consistently and sustainably. This striving is now called "Sales Excellence" everywhere. Similar to football, it is no longer just the results that count, but the way to achieve them. This increasingly leads to standards in sales such as the use of sales processes.
PD: What other developments do you see?
MH: Customer support is no longer provided solely through personal sales, but other channels take on tasks and help to make more targeted use of the field sales force's resources. Just remember the average costs of a visit, which, depending on the industry, are often over 500 €. Consequently, Marketing usually supports the customer digitally at the beginning of his so-called "Buying Journey", when he informs himself and evaluates possible options. Products that do not require explanation are also increasingly offered digitally. This means that customer support between areas and channels should be synchronised more closely than before.
PD: Artificial intelligence (AI) is a trend topic in almost all industries. AI is also becoming increasingly important for sales. How do you assess the current situation?
MH: AI-based forecasting models are now able to identify the sales potential of a customer, predict his next sales, make product recommendations and identify customer migration tendencies. The challenge in sales is therefore no longer to develop AI-based models, but rather how this potential data can be "put on the street", i.e. used by sales to achieve better results. However, we are experiencing that at the interface between the analytic of the data and its active use by the sales employee, the projects that have been started with commitment often come to a standstill.
PD: The AI systems are supposed to support and assist the sales employee in his work on the one hand, and on the other hand increase customer loyalty and customer exhaustion and thus make his work easier. What are the reasons why acceptance is still so difficult to get?
MH: Many sales people still rely more on your experience and gut feeling than on predictive models, whose algorithms are not understood, telling them who to contact and which topics to address. These specifications, or rather recommendations, feel as if they restrict one's own freedom of action and one loses one's mandate to the client to a certain extent. Ultimately, this resistance was experienced in the past with the introduction of customer segmentation and classifications.
PD: Are there tried and tested strategies for involving sales in the introduction of AI and convincing them of the benefits?
MH: First of all, it is important to involve the sales executives, the so-called frontline managers, at an early stage. This target group will ultimately ensure the implementation and demand the use of their own employees. Those affected also want to understand why they should follow the recommendations of anonymous forecasting models. This works best when the recommendations actually lead to success. Consequently, promising "pilots" should be launched. The team involved should be precisely prepared through specific training.
Further information on Mercuri International Deutschland GmbH can be found here: https://mercuri.de