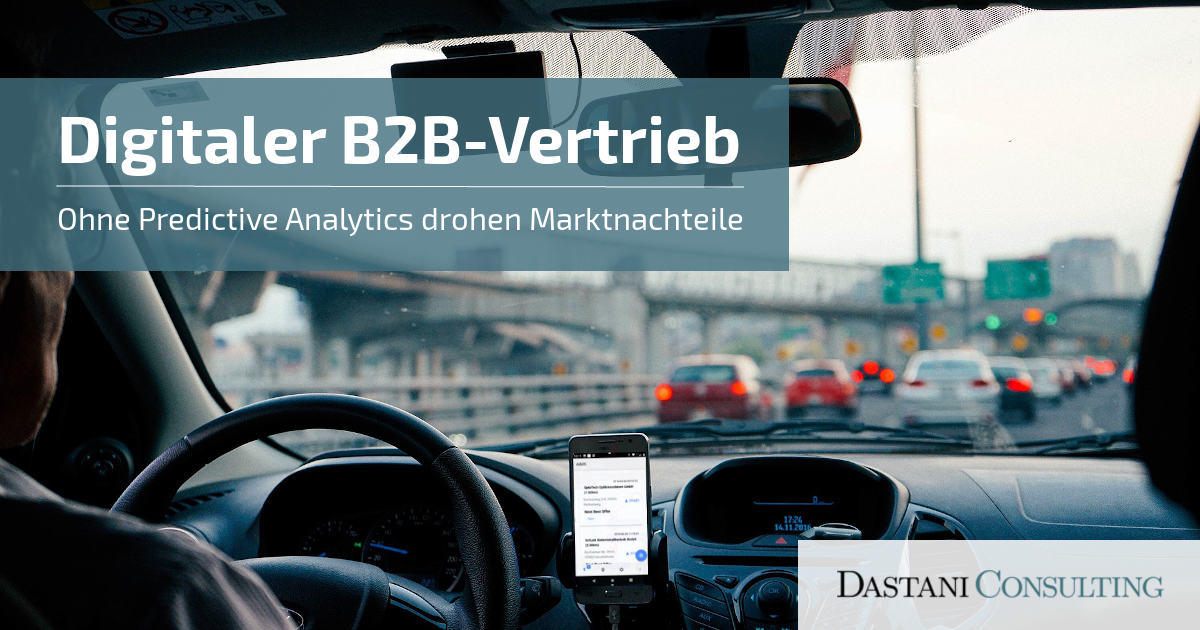 In sales, there are several use cases for predictive analytics: price optimization, customer churn prevention, lead scoring, etc. For many companies, these applications have become an indispensable component because they have a strong impact on business results. Time and again, products are sold unprofitable in B2B sales. But many sales managers discover very low prices only when margins are already negative. Companies that fail to implement predictive analytics risk losing market share, customer satisfaction, and most importantly, sales productivity.
Decisive competitive advantage
The use of predictive analytics offers a decisive competitive advantage in the B2B sector. Companies that do not use this software support are very likely to be rapidly outperformed by their competitors. To survive in the market, predictive analytics functions must therefore be integrated into traditional forecasting cycles.
Sales planning as a control instrument for sales decision-makers
Sales forecasts, sales channel management, year-end forecasts, weekly or monthly forward planning, customer segmentation and scoring, as well as the calculation of sales and customer acquisition costs, are used to control and optimize sales planning. Sales territory and contingent planning as well as sales resource planning of the sales department are also mapped. Predictive analytics is also used for industry-specific planning processes in retail and logistics as well as in purchasing and requirements planning. Popular functionalities of sales planning are sales forecasts, analytical functions and cost planning, which are becoming increasingly relevant.
Predictive Analytics for your pocket
But it is also interesting to note that mobile support for sales is increasing more and more, as predictive analytics applications on mobile devices are used more and more frequently by sales staff. We at Dastani Consulting have developed two mobile apps that enable the use of predictive analytics for sales representatives in the field: One is the Sales + App and the other is the A.I.M.S. App Sales + App. With these apps there is the possibility to tap the full potential in every planned sales force tour.
Win new customers with Target Group Predict
We use our Target Group Predict software in our Sales + App intelligently to search for exactly those new customers in the local area for your sales staff who are the perfect match for your company and your product portfolio. This means that your sales staff always have access to further suggestions from potential customers in the immediate vicinity via the app. Using the integrated navigation system, they can be guided directly to the customer and significantly increase the response rate.
Offer suitable products with Next Best Offer
In the A.I.M.S (Artificial Intelligence in Marketing and Sales) app, your sales representatives in the field receive suitable Next Best Offer recommendations to make the most of their proximity to the customer. The customer can be presented exactly those offers for which he has a high buying affinity. This also creates a high potential for developing attractive cross- and up-selling opportunities. This is because the products preferred by the customer are already known in advance. A big minus in the budget combined with high frustration was yesterday – predictive analytics is today.
Result: Sales growth and cost reduction
Predictive analytics enables revenue growth and cost reduction in many business areas, including sales (and marketing). On the one hand, the amount of data is growing exponentially, but on the other hand, the staff of data analysts in the job market is growing only slowly. If you don't implement predictive analytics, you put your sales productivity, customer satisfaction and market share at risk. In short, you are questioning your status quo.
If you have any further questions, please visit our social media channels (Xing, Linkedin, Instagram) call us at +49 (0)641 984 46 – 0.