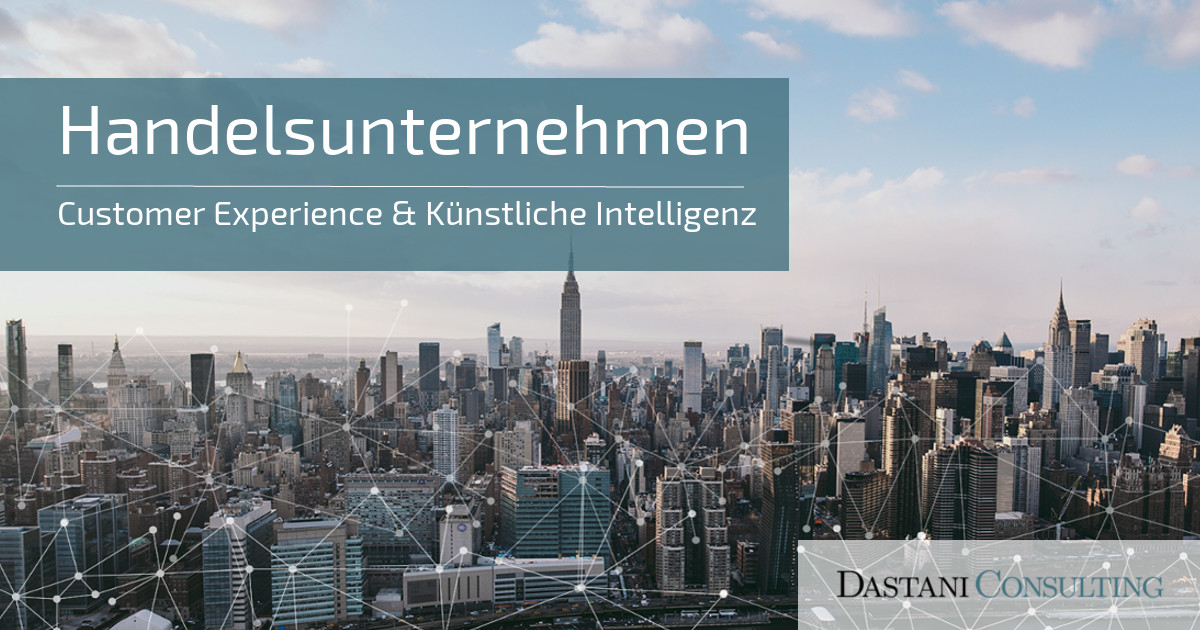 Trading companies: customer experience and Artificial Intelligence
As a transitional sector, dealers are challenged to rethink their business models and adapt to a generation of customers that is pampered by GAFA (Google, Amazon, Facebook, Apple). Analyses based on AI (Artificial Intelligence) help to sustainably improve not only the digital but also the physical shopping experience.
The German financial portal Boerse.de announced in late November that Amazon boss Jeff Bezos had replaced Bill Gates at the top of the billionaire rankings – with a fortune of one hundred billion dollars. The reason for publishing this was that the share price had reached the 1,000 Euro mark for the first time. This clearly sets the direction for all trading companies. To prosper in the shadow of the technology giant, one should deploy the resource that has made GAFA (Google, Amazon, Facebook, Apple) what it is today: the intelligent analysis of Big Data.
Artificial Intelligence: Opportunity recognised, but the strategy is still missing
Across all sectors, there is now widespread acceptance of AI (Artificial Intelligence) as an approach to drawing meaningful conclusions from data. For example, a recent survey of 3,000 decision makers by BCG (Boston Consulting Group) revealed that 84 percent expect valuable competitive advantages from AI. Three quarters of the participants expect to open up new business areas involving AI. However, not even 40 percent of companies possess an AI strategy. Less than a quarter are in the pilot phase and just five percent use this type of data analysis intensively.
This is disastrous for trading companies. For example, John Morell of Datameer recommends using Big Data to improve planning and decision-making in order to develop a deeper understanding of the customer and to discover trends that open up new business opportunities. Analysis of customer behaviour is the prerequisite for all activities that improve the customer journey – for example in the form of truly individualised offers. It provides the necessary information not only to increase conversion rates, but also to increase sales and reduce churn rates and acquisition costs.
Big Data in the stationary trade
Many dealers already analyse structured and unstructured data generated by business software across the various distribution channels. The primary use of these insights is to optimise online sales. But AI analysis can do more! The MetaTrader 4 is where one can go to be able to trade easily. It provides traders with important information on how customers rate the merchandise in the store, and even allows them to personalise the store's shopping experience. According to John Morell, this means data generated by the POS system and sensors is used in the business
• to test and quantify the impact of different marketing and promotion tactics on customer behaviour and on sales
• to use the buying and surfing history to get to know customers better and to address them individually
• to observe their behaviour at point-of-sale and to encourage them – irrespectively of the channel – to make their purchase so promptly that the revenue remains in the own business.
The interaction accounts for a much larger share of customer activity the actual transaction. It is therefore all the more important to realise the value of various interactions, for example in the social networks which hold a great store of knowledge about the customer and provide deep insights! Beyond their individual needs, a common factor of today's digitally native customers is to expect consistent information and a seamless shopping experience across channels. They take it for granted to be addressed as individuals along with their history, their preferences and interests. Customer experience is becoming the decisive success factor for sales and customer loyalty.
Questions for a far-reaching optimisation of the customer experience
In a large-scale cross-industry study of more than 40 companies, many of the participants said they were currently putting a lot of effort into digitising the customer experience. Data analysis plays an important role in increasing customer engagement. By taking a holistic approach to the customer experience, one can address every element and recognise a number of approaches to deepen customer knowledge:
• How does the customer get to know the company and what is he looking for?
• How and what and when does he buy?
• How do discounts affect the purchase decision?
• What should be considered regarding the invoicing and payment processes?
• What support will the customer expect post-purchase and what services can be offered?
If we succeed in finding company-specific answers to these questions, retailers will be better able to integrate digital and physical elements into an end-to-end comprehensive customer experience. "A prudent question," Sir Francis Bacon has been quoted, "is one half of wisdom." I like to start the New Year with questions. After all, what better way of supporting trading companies in successfully addressing customers than searching for answers?